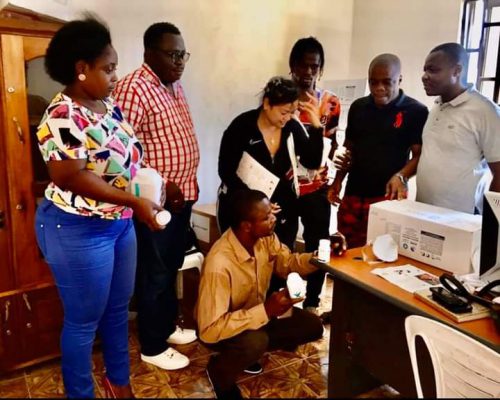 About Us
An Overview
Cry Respond Foundation (CRF) was established in March, 2016, incorporated and registered on February 9, 2018 with the Government of Liberia (GoL) through the Liberia Business Registry, accredited by the Ministry of Finance and Development Planning, registered with every GoL ministries and obtained sectorial licenses to allow us operate as a Not-For-Profit Organization legally, and also registered with the Liberian NGO forum.
CRF is a legally registered and re-accredited Non-Governmental Organization under the laws of the Republic of Liberia since 2018 with programs to improve the lives of less privileged people through health, education, agriculture, peace building & conflict resolution and emergency relief services. Its registration details are – registration number: 052018935 and Taxpayer Identification Number (TIN): 500742949.
Our target beneficiaries are those who face serious financial crisis, poverty, civil crises, marginalization due to their political backgrounds, ethnicity, religion and unemployment from time to time.
Since its establishment, CRF has been very active in the provision of assistance to many less-privileged persons and communities that are always in dire need of relief from donors, individuals or international organizations. In view of the aforesaid, CRF envisaged that with such a prevailing condition, if there is no constructive action to remedy these problems, we must expect these targeted groups to be plunged into disastrous life in the near future.
Today, we are one of the recognized local Not-For-Profit Organizations, serving hundreds of thousands of less-privileged persons in most of the counties in Liberia with a variety of programs and services. Since our inception, we have proudly served more than 73,000 less-privileged persons in Liberia and we are determined to do more with the support of our partners.
CRF has a functional established management and operational structure and systems in place. Currently, CRF is engaging full time and qualified personnel in the Board, management and operation. The key positions in place are Board Executive led by a Chairman, head of management led by Executive Director of the organization, head of operation led by program manager and assisted by Project Coordinators, and the finance department headed by Finance Officer with support from project officers in respective departments. Other positions in place are M&E, Extension workers, Data Clerk/Secretary, Driver, Receptionist, Cleaner and security with total man power of 13 personnel with men and women. Provision of voluntary services to the organization by out well-wishers is left opened. The Executive Director oversees project operation and project grants and/or funds, ensure coordination and representation of the organization both internally and externally. Share project reports and vital information with donors and other agencies as may be required, the Program Manager is in-charge of technical planning, follow up and general supervision of all project's activities, internal coordination for the project staff and project activities, oversee the implementation of all the field activities and write project activity implementation reports. The Accountant manage financial operations of the project including accountability, financial reports and support audit activities for the project, the M&E officer is in charge of monitoring and evaluation of project activities, propose alternative strategies and recommendation(s) towards improvement of the project. Meanwhile the technical officer directs project implementation under specific objectives with project with group beneficiaries and provides technical support to Project Staffs. The Project Staffs support the technical officers in direct implementation of the activities and assist M&E in data collection, data cleaning entry, maintain beneficiaries' data base (MIS) and etc. as may be required.
Today, we are one of the most recognized Not-For-Profit Organizations, prepared to serve hundreds of thousands of less-privileged persons in most of the counties in Liberia with a variety of programs and services. Since our inception, we have proudly served more than 100,000 less-privileged persons in Liberia.
Our three -pronged purpose are as follows:
1. Promote dignity and self-esteem.
2. Foster independence and self-determination.
3. Facilitate social interaction and involvement in community life
Get Involved
We all need help at one point in Life or Another. Please Consider playing your part in lending a helping hand to the Less Privileged
What We Are Here For...
Our Mission, Vision & Core Values
Click on any tab below to open that tab
Our Mission
"To enhance the quality of life for the less-privileged people and     communities through the provision of programs that will improve their lives".
Our Vision
Our Core Values
Our Team
Members of the CRF Board
Princess Teta Paybayee
Board Secretary
Emmanuel Jeremiah Williams
Board Chairman
Ifeanyi "Danga" Onwuka
Board Vice Chairman
Moses K. Nimene
Board Member
Daniel B. Walker
Board Member
Abu Kamara
Head of Operations
Princess Teta Paybayee
Executive Director
A Highly Priced Part of The CRF Team
A Few of Our Lead Volunteers
Blessing Orisama
Volunteer
Ijeoma Iloani
Registered Nurse / Volunteer
Anita "Ify" Onwuka
Volunteer
Mapoe Wogbeh
Registered Nurse / Volunteer